THTC: Turkish Healthcare Travel Council
Turkey
Ankara
Orthopedics and Traumatology and 17 more
We completed another mission in London. We were represented by THTC General Secretary Yunus Gürkan and our London Network Office Director, sister Itır.
We appreciate Dear Mr. Minister of Tourism's interest in our work and honoring our stand.
Thank you, our great mentor Yunus and sister Itır, I am so glad that I have you as my colleagues.
Another name for success is team play.
I am very lucky as a team builder, we are on this road with my precious teammates for so many years. We managed to carry the flag of Turkish Republic to 90 countries and have the honor of keeping the flag flying higher and higher.
I would like to express my gratitude to all of my team especially to General Secretary of THTC, Yunus Gürkan for his self-sacrificing support.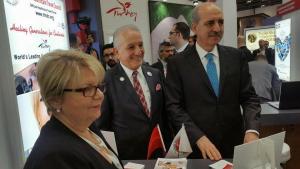 ---
Show All Results
Contact
THTC: Turkish Healthcare Travel Council

7/24 Support

00 90 850 532 6249

eMail

Website

thtdc.org/

Address

Hacettepe Teknokent Beytepe Kampüsü 4. Arge Binası No:42 Ankara/ TURKEY

Spoken Languages

العربية, Azerbaycanca, Dansk, Deutsch, Ελληνικά, English, Español (España), فارسی, Français, italiano, 日本語, Nederlands, Português (Portugal), Pусский, Svenska, Türkçe, 中文(简体)
About me
In 2005, the Turkish Healthcare Travel Council (THTC) was established to strengthen the health tourism activities and to unite the national efforts to bring more patients to Turkey from around the world. With 317 members, consist of General Hospitals, Private Clinics, Thermal and Medical SPA Centers, Hotels, Travel Agencies, SPA and Wellness Centers, Facilitators and Assistant Companies, 144 network offices in 85 different countries, the council has grown into the largest healthcare association in Turkey and the World. In its ten years of existence, the council has had a significant presence at over 350 healthcare exhibitions, medical conferences, tourism fairs, and global summits-many times organizing and serving as platinum or diamond sponsors at these events.THTC has developed an exemplary corporate structure. The growing staff, which is capable of serving in all world languages, delivers excellence and ingenuity. In 2013 at IMTEC in Monte Carlo, THTC initiated and served as a founding country for the Global Healthcare Travel Council, which promotes and provides healthcare services to world citizens. Through such endeavors, the Turkish Healthcare Travel Council has cemented its place as a global contender in the healthcare industry.
Education
Gallery
Compliments
Books